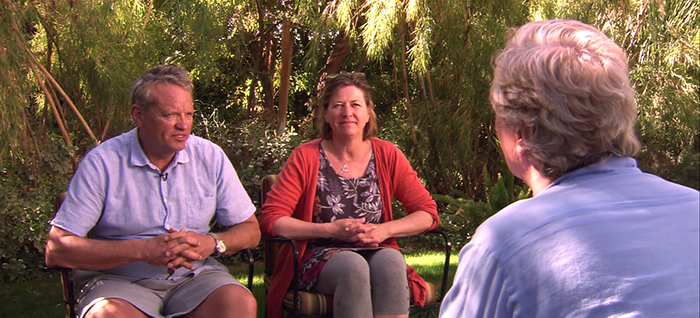 If you don't know your gene status, and don't want to know, you can join Enroll-HD without finding out. You won't be told what your gene status is, and it won't even be revealed to the site staff who do the questionnaires and other exams for Enroll-HD. Your doctor, and the other medical staff at the clinic, won't know either.
For people from an HD family who don't know their gene status, the decision to get tested can be gut-wrenching. It's a private decision. And it can also be isolating. People who don't have HD in the family don't fully understand. Meanwhile other family members have their own opinions, because one person's decision to test might have implications for them too. The result is that people considering this decision can feel alone, hidden in the shadows.
In recent years the Norwegian couple Astri Arnesen and Svein Olaf Olsen have begun to publicly tell the story of how they made this decision—and its consequences for their family. At first they spoke at several HD meetings in Norway, then at the European Huntington Association (EHA) conference in Warsaw in 2015, then at CHDI's HD Therapeutics Conference in Palm Springs, California in 2016. They are making their private life public in order to counter the stigma and shame that still clings to HD, and sometimes to HD families.
In their joint presentation they openly describe all of the emotional turmoil that they have gone through as a couple and as parents. Astri's mother and grandfather both had HD, and she describes in vivid detail the ways that those illnesses—and the inability to talk about them—shaped her life as a child.
She and Svein Olaf, both teachers by profession, tell the story of how they fell in love and decided to have a family despite the knowledge that Astri was at risk. They narrate their disagreements about when and how much to tell their two daughters. In their presentation they talk about many things that are still rarely discussed in public.
During Astri's childhood her mother had terrible mood swings and anger. But it wasn't until Astri was in her 20s that the family actually talked about it. One of the ways she coped was by avoiding finding out her own gene status. "For me, the hope of not having the gene was a powerful part of my way of handling it," she says. "The hope was such a strong way for me to cope."
Even so, their family was still being affected by HD. Svein Olaf secretly became convinced that his wife was already showing symptoms of HD. When she trembled or twitched before falling asleep, or lost her temper and yelled at him, he thought: This is it. This is the first sign of HD. He convinced himself that his eldest daughter, then only a teenager, had symptoms as well.
Svein Olaf was grief-stricken, consumed with worry and despair, but hid the feelings from his wife and family. "I didn't know this," she says now. "I sensed this with the way he treated me, but I didn't understand why. He never talked about his fear." He spoke about it with only two friends, both doctors. It was intensely isolating.
Svein Olaf felt that he was losing his mind. He was afraid that, due to the psychological pressure, he might break down and run away from his wife and family, whom he dearly loved. "It's incredible," he says now. "I thought she was sick, and I was the sick guy."
Once their elder daughter turned 18, she decided she wanted to learn her own genetic status. She made a promise to her mother that she would keep the result a secret so that Astri could avoid learning her own status by implication. But Astri knew she could not allow her daughter to accept such a burden alone. She was 47, and she realized that if she did in fact have the HD gene she should start to prepare.
When Astri decided to take the genetic test, she was suddenly terrified for the first time since childhood. She would finally confront the truth.
On the day she went to get her results, Astri and Svein Olaf flew together to Bergen, in Norway. On their journey, Svein Olaf's sense of doom was so strong that he actually hoped the plane would crash rather than deliver them to their fate.
Astri's test was negative. She did not have the mutated HD gene, and so neither did their children.
It was a great relief. But both say it took two or three years to come to terms with the knowledge. It affected them in surprising ways.
Astri says although she did not feel guilty, as some people do, it was nonetheless very difficult to tell her siblings. One brother recently died from HD; her older sister is in a nursing home with symptoms. Her siblings were happy for her, although one of her sisters, who has Asperger's Syndrome, felt sad to hear the news. She was sad, she said, because Astri was no longer part of something that all the siblings had shared—the sense of being at risk, and not knowing their actual genetic status. "We were no longer in the same boat," says Astri. "I could feel the sorrow too."
The Huntingtonians
When they give their talk, Astri maintains her calm even as she recounts painful events in her life: her father's growing estrangement from the family as her mother became increasingly ill; her younger brother's death. Svein Olaf, by contrast, chokes up repeatedly. They are willing to expose themselves in this way, and relive some of the most difficult moments in their lives, because they feel it is helpful for others to hear.
After so many years of silence, Svein Olaf now talks about HD a lot—publicly, to friends, even to new acquaintances. "It's fantastic to be able to do that," he says.
HD is still part of Astri's identity, she says. "I will never lose that. It's not like any other disease, in which you get cured and it's gone away," she says. "It's around me, it's family."
Astri and Svein Olaf describe themselves as "huntingtonian," meaning that they are and always will be part of the HD world. "The community is very strong," says Astri. "We call it our second family."
Astri was president of the Norwegian HD Association for almost 10 years, and is now vice-president of the EHA, an umbrella association of HD family groups in Europe. Svein Olaf is a board member-at-large. The EHA supports local organizations by helping arrange meetings and other practical support, and helps start new associations in places like Bulgaria, Slovenia and Cyprus.
For Astri, the hope that once sustained her through years of uncertainty and difficulty has changed. Her new hope: That research will soon provide more help for people with HD. For that reason, she and Svein Olaf want to spread the word about what research does, how it works, and some of the recent advances. "I'm not a missionary," she says. "I just want to make people aware of the possibilities, and make more informed choices about what's right for them."
One goal is building stronger connections and more trust between researchers and the larger HD community. That means getting the word out about Enroll-HD and preparing people to join this study and others that are expected to launch in the next few years.